73% of the signatories of the Diversity Charter observe an improvement in their image and reputation thanks to their diversity policy (Barometer Diversity & Business Lëtzebuerg 2021).diversity management remains a key issue in Luxembourg, and its efforts contribute to: increased profitability and productivity, attracting and retaining talent, increased creativity and innovation, a better reputation and an ability to gauge consumer interest and demand better. The role of organisations is crucial in their ability to influence the workplace directly. Diversity Day is one of the many expressions showing willingness.
The Diversity Day took place on Tuesday, 23 May 2023, for the 9th time. This national day is a privileged opportunity for organisations to illustrate their engagement through concrete actions (signatories or not of the Diversity Charter). This event aims to bring together companies, public organisations and associations around the promotion of diversity.
The day ended with the official signing session of the new signatory organisations of the Diversity Charter Lëtzebuerg. A significant moment at the beginning of a commitment towards diversity promotion and management or formalisation of an existing commitment, the signing session is a highlight of the Diversity Charter agenda, gathering the new signatories' CEOs. Their presence in this session is mandatory to show that the commitment in favour of diversity positions itself at the highest decision-making level of the organisation.
DIVERSITY DAY OFFICIAL VISITS
The official tour was organised in the presence of Mrs Corinne Cahen, Minister for Family, Integration and the Greater Region and Patron of the Diversity Charter Lëtzebuerg, accompanied by a delegation from IMS, represented by Christian Scharff, President of IMS Luxembourg.
Four activities during the tour: the "Diversity Fair" at the Lycée Michel Lucius, "50 ways to fight bias workshop" at SES, the opening of the Trisomie 21 exhibition at the Spuerkess and a stands visit at ArcelorMittal.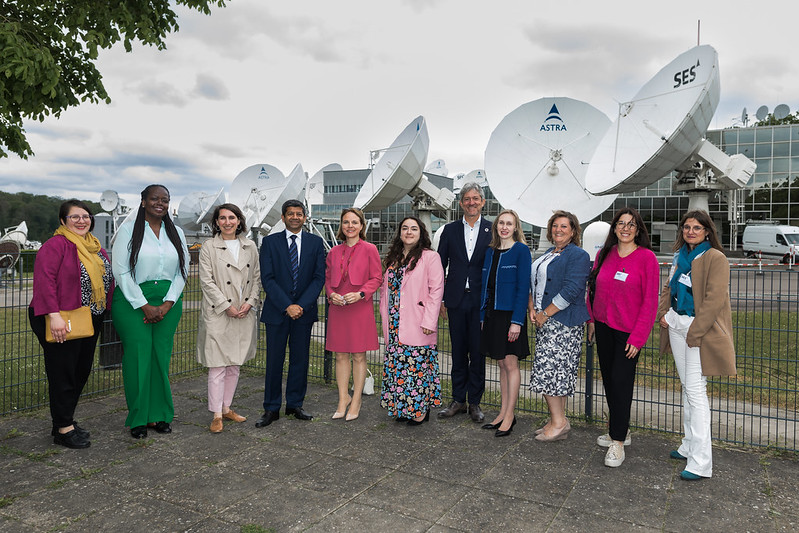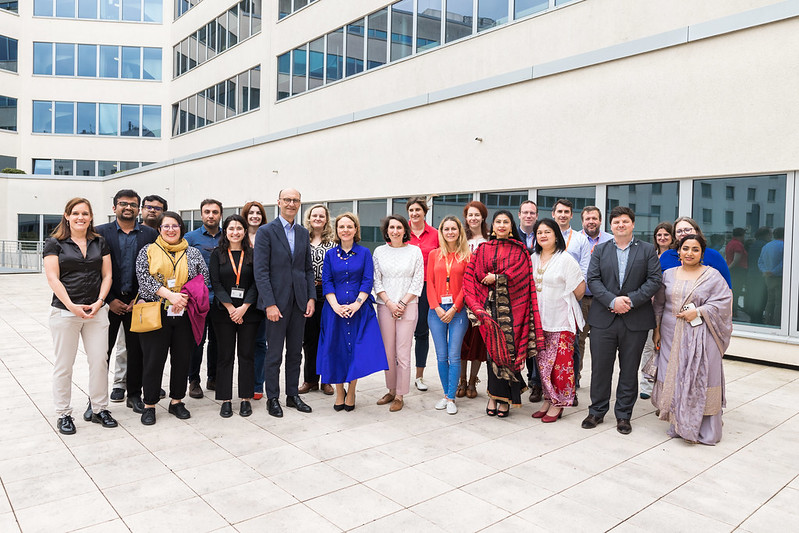 43 NEW SIGNATORIES
43 organisations welcomed during this 13th official signing session of the Diversity Charter Lëtzebuerg:
Aztec
Baker McKenzie
BlackRock
CAMPUS CONTERN
D'co
Digitalize
Ecole Internationale Gaston Thorn
European Stability Mechanism
F3C Systems
Ferrero
FIDELUX
Fondation APEMH
Fujitsu
Grant Thornton Luxembourg
Hofstede Insights Luxembourg-Belgium
HR Community
INDOOR FOREST
Intelsat
Julius Baer
Lab Group Luxembourg
Lamboley Executive Search
Laure Maillard
Ligue Luxembourgeoise d'Hygiène Mentale
LuxCMA
Luxembourg School of Business
LuxTrust
Lycée Michel Lucius
Mobbing
Morgan Philips
Moulins de Kleinbettingen
Novotel Suites Luxembourg
Return2Career
Revantage
Rollingertec
RSM Tax & Accounting Luxembourg
Savills
Schroder Investment Management (Europe)
SIX Financial Information Luxembourg
SOS Kannerduerf
Swissquote
The Event Agency
The Network
Workculturati
All in all, the Diversity Charter currently has 294 signatories committed to promoting and managing diversity through concrete actions that go beyond legal obligations.
3 UPCOMING TOOLS
This ceremony was also an opportunity to present three new tools developed by the Autonomous Working Groups 2022:
Intergenerational management: a practical guide led by Sodexo
Impaired health at work: a practical guide and testimonials led by PwC
Gender equality: a self-assessment tool led by ABBL
Those tools will be available during the summer.
Two new Autonomous Working Groups 2023 are set up and will work on the following themes:
Against racism to draft a good practice guide (definitions, challenges, testimonies...) led by SES Satellites.
LGBTQIA+

inclusion

to establish a state of play of what is being done to promote the

inclusion

of LGBTQIA+ people in companies, led by RBC Investor & Treasury Services.
Published on 24 May 2023